Like many photographers/videographers, I have quite a few Nikkor lenses (plus old Nikon film and digital still camera bodies) on the shelf. Although I have
never
been tempted to buy a Nikon DSLR for video, I have adapted my Nikkors to small sensor mirrorless cameras and gotten very nice results with manual focus and aperture.
That said, I have wished for many years that Nikon would produce a modern full frame mirrorless camera that was fully compatible with my Nikon system lenses.
Now, with yesterday's official announcement of the new Nikon Z6 and Z7 full frame mirrorless cameras, Nikon has come through. For video shooters, Nikon has finally delivered a full frame camera with no pixel-binning, 4K/30p, 1080/120p and LOG.
Atomos Ninja V 5" 4K monitor/recorder
Even better, Atomos has just announced that their new Ninja V 5" 4K monitor/recorder is fully compatible with the 10-bit output of these new cameras. From the
Atomos press release
:
Today, the holy grail of video on mirrorless cameras has been unveiled: the new Nikon Z 6 and Z 7 mirrorless cameras output a full-frame 10-bit 4K N-Log signal which the new Atomos Ninja V 4K HDR monitor/recorder can record and display in

HDR.

This combination raises the bar for filmmakers and photographers shooting video everywhere.




The Nikon Z 6 and Z 7 have state-of-the-art sensors that output pristine 4K images over HDMI, ready for conversion to HDR by Atomos. The Atomos Ninja V records the output to production-ready 10-bit Apple ProRes or Avid DNx formats.




Atomos is proud to be the first to support Nikon Log, Apple ProRes recording and HDR monitoring from the Z series cameras. The tiny Ninja V 5-inch device is the perfect partner for these full-frame mirrorless cameras, making the setup ideal for weddings, corporate, news, documentary, nature films or b-roll for Hollywood productions.




First full-frame 4k 10-bit mirrorless recording

Until now, full-frame mirrorless 4K video has been limited to 8-bit. With the Nikon and Ninja V combination you can capture more shades of color for maximum flexibility in post-production. Get footage like never before, with better looking skin tones and smooth gradients in skies. This means the combination perfectly meets the specifications for true HDR delivery.




New Nikon N-Log fully supported by Atomos with automated set up.

The Z 6 and Z 7 offer the new Nikon N-Log gamma, a brand-new Log gamma designed by Nikon to get the most out of the cameras' sensors and wide dynamic range. Atomos are the first to resolve N-Log to HDR on their devices and our engineers have developed specific presets for it. Setup is automatic the moment you plug the Ninja V into the cameras thanks to advanced communication between camera and monitor. The Ninja V can show a massive 10+ stops of dynamic range on-screen, to allow users to make accurate exposure and color decisions. The recorder can receive timecode and be triggered directly from the cameras.




The Ninja V advantage

The Ninja V has

a sleek 1

" thick aluminum body, crafted for maximum durability, and weighs only 11oz. The high brightness 1000nit display allows it to be viewed in daylight and used to display HDR images. The screen is color accurate and can be calibrated to maintain its accuracy over time. The Ninja V records onto industry standard SATA SSD drives, including the new AtomX SSD Mini series of smaller form factor drives. As a result, these drives are more affordable than proprietary media. Footage recorded onto the Ninja V can be instantly played back in REC.709 or HDR on the device itself, or to a TV. Metadata is embedded into the HDMI output to allow correct display of HDR on compatible monitors and televisions. The Ninja V has a modular expansion slot to allow future upgrades to its feature set.




A new full-frame era begins

Atomos CEO Jeromy Young said: "It's fantastic to push technology barriers with our friends at Nikon. Combining the new Nikon and our Ninja V HDR monitor/recorder gives filmmakers exactly what they have been asking for – a compact full-frame 4K 10-bit recording system at an amazing price point. To be able to offer users the next level of performance with our Ninja V and Nikon is what our company is truly about!"
So, for about the same price as a small sensor GH5 or an 8-bit Sony A7 III with a decent lens, you can now buy a
Nikon Z6 body with the FTZ adapter
plus a
$695 Ninja V
and record
10-bit full frame
LOG with Nikon system glass.
This is a very big deal.
But these cameras are not perfect.
Sadly, Nikon has limited their brand new mirrorless cameras to a single QFD card slot - and they chose a Sony-style tilt screen instead of the fully articulated LCD from their own APS-C cameras.
And we'll have to see how fast the adapter is with Nikon legacy lenses - but if the FTZ can match the performance of the EF-M to EF adapter for Canon mirrorless cameras, the Z6 and Z7 should be able to get past their minor design flaws - and tap into an enormous market of shooters with a significant investment in Nikkors.
What do you think? Please let me know in the comments.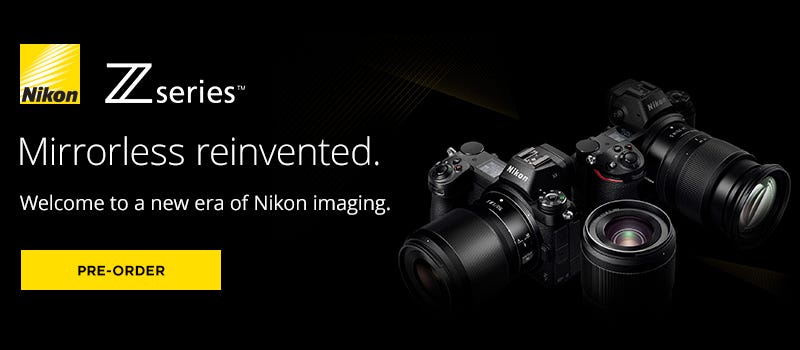 Disclosure of Material Connection: Some of the links in the post above are "affiliate links." This means if you click on the link and purchase the item, I will receive an affiliate commission. This costs you nothing extra. Regardless, I only recommend products or services I believe will add value to my readers. I am disclosing this in accordance with the Federal Trade Commission's
16 CFR, Part 255
: "Guides Concerning the Use of Endorsements and Testimonials in Advertising."