VS.
Blackmagic Design has done it again - disrupted an existing market with a low priced, high quality professional camera with a very attractive feature set.
Just as they did with cinema cameras a few years ago, Blackmagic has taken a market where cameras have traditionally cost literally tens of thousands of dollars and introduced a comparable product for less than $10K. Only this time, the
price for the URSA Broadcast is an amazingly low $3,495
(press release
here
).
Basically, Blackmagic has taken the proven URSA Mini Pro platform and replaced its 4.6K Super 35 sensor with a new 2/3" UHD unit and given it a B4 mount with power to make it both ENG and studio friendly, as seen in the images Blackmagic is using to promote the camera:
URSA Broadcast in the field....
...and in the studio
But the Broadcast is the second entrant into the 4K shoulder mounted ENG camera marketplace.
Two years ago at NAB 2016, Sony introduced the world's first shoulder mounted 4K ENG camera with a 2/3" sensor and a B4 lens mount, the PXW-Z450. I was at that show, and the Z450 was one of the stars of the Sony press event. Sony was rightfully proud of this achievement and promoted this camera heavily, as seen here:
Until now, if production companies and freelancers wanted a 4K shoulder mounted pro camcorder on a budget, they had to adapt B4 lenses to a larger sensor camera with a 2x doubler to avoid vignetting.
For some of these cameras, adapting ENG lenses also meant buying an external power source for the zoom.
As you might guess, all of this was a hassle and something news shooters and documentarians tended to avoid.
Now, almost two years later, Blackmagic has turned the world upside down with a camera that closely matches the Z450's specs for an almost unbelievable $21,500 less.
Here is Blackmagic CEO Grant Petty introducing the Blackmagic Design URSA Broadcast (long):
This camera has the same 2/3" sized sensor as the Z450 and a similar native, powered B4 mount. It has the same maximum 4K/60p resolution and both cameras have a range of edit ready 10-bit codec options.
But the Broadcast has several features the Z450 lacks, in addition to price. It has dual SD card slots for some of its lower bit rate codecs - it has an interchangeable lens mount and it records to Blackmagic's losslessly compressed CinemaDNG RAW.
SD cards are lot less expensive than the
Sony's SxS cards
, the interchangeable lens mount provides more creative flexibility and for content producers who have the time to grade, the ability to record 12-bit RAW will deliver images with a wider color palette.
Of course, there's more to these two cameras than just a few headline features - and you get a lot of intangibles for your money with the Sony (to include their highly regarded
pro support
) - but for low budget broadcasters, cablecasters, webcasters and other live streamers - the URSA Broadcast will open up a whole new world of possibilities.
Personally, I plan to rent one at the earliest opportunity. It will be perfect for a live stream project I have coming up - and I would like to see what it can do in a narrative setting. By keeping the aperture open with the built-in ND filter and using longer focal lengths, I should be able to deliver acceptably shallow depth of field.
If anything here has helped you to make a buying decision, please click on the links above or the display ads below or in the margins. It won't cost you anything extra, and it will help to keep these posts coming.
And please
follow HCR here
, on
G+
, on
YouTube
on
Vimeo
and on Twitter (button below) for the latest news on micro-budget video and cinema.
Follow @hybridcamrev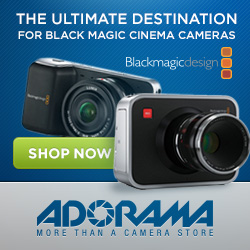 Disclosure of Material Connection: Some of the links in the post above are "affiliate links." This means if you click on the link and purchase the item, I will receive an affiliate commission. This costs you nothing extra. Regardless, I only recommend products or services I believe will add value to my readers. I am disclosing this in accordance with the Federal Trade Commission's
16 CFR, Part 255
: "Guides Concerning the Use of Endorsements and Testimonials in Advertising."