So far, Alexa Mini has had the Super 35 4K/global shutter aerial market pretty much to itself. That is about to change.
Courtesy of
Grit Visual in Salt Lake
, here is the first aerial footage shot with the
$2,995 URSA Mini 4K
:
The gimbal for the ground shots was a
$2,279 DJI Ronin
- and the multicopter used for the aerials was an
$11,995 Freefly Alta
with a 4.8 kg/15 lb maximum payload.
Here's the behind-the-scenes - interestingly, they had to come up with a custom battery solution to get it airborne:
Dynamic range, highlight rolloff, color (after a light grade) and the absence of rolling shutter are all impressive here.
To my eye, this compares pretty well with a similarly-themed commercial shot with the
$45,000 Alexa Mini
and an
$11,330 Freefly MoVI M15
:
Now that we've seen actual footage from the URSA Mini, some people are
comparing it to other cameras in the sub-$10,000 price range
in interesting categories such as "cost of media" measured in "dollars per gigabyte".
There are far important metrics that should take priority when comparing these cameras.
To most DPs, avoiding CMOS skew from a fast-moving drone or maximizing the palette of colors for flexibility in post matter more than how much a storage card costs - but other than URSA Mini, the old Production Camera 4K (and the hard-to-find Kinefinity Kinemini),
no Super 35 camera below $10K has both a global shutter and the ability to record to RAW internally
.
As a result, in my view, other sub-$10,000 Super 35 cameras are not really competitive with the gold standard of digital cinema - the camera that
80% of last year's cinematography Oscar nominees was shot on
- the Arri Alexa.
Yes, RED Raven records to REDCODE RAW, but it lacks a global shutter. While Sony cameras in this price class have neither internal RAW recording nor a global shutter.
URSA Mini, on the other hand, is competitive with Alexa in both of these key areas.
For what it does, the price point on URSA Mini is amazing and will change the economics of filmmaking when it starts to ship in large numbers.
Pretty impressive for a camera that costs less than the $4,500
deposit
on the Alexa Mini.
If anything here has helped you to make a buying decision, please click on the links above or the display ads below or in the margins. It won't cost you anything extra, and it will help to keep these posts coming.
And please
follow HCR here
, on
G+
, on
YouTube
on
Vimeo
and on Twitter (button below) for the latest news on micro-budget video and cinema.
Follow @hybridcamrev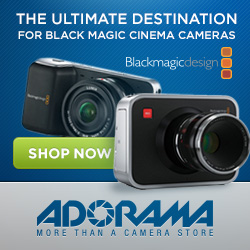 Disclosure of Material Connection: Some of the links in the post above are "affiliate links." This means if you click on the link and purchase the item, I will receive an affiliate commission. This costs you nothing extra. Regardless, I only recommend products or services I believe will add value to my readers. I am disclosing this in accordance with the Federal Trade Commission's 16 CFR, Part 255: "Guides Concerning the Use of Endorsements and Testimonials in Advertising."