Finally - Blackmagic beta tester and cinematographer
Tom Majerski
posts two examples of footage from the URSA Mini
4.6K
to Vimeo! Without further ado, here they are:
As Tom said in a
tweet
earlier day, "It's better than I expected...worth the wait."
I agree- the dynamic range and the richness and depth of the colors seem much more (dare I say it) "Alexa-like" than the 4K camera to my eye.
Now that we have started to see footage from both the 4K and 4.6K versions of this camera, I'm going to go out on a limb. I think Blackmagic has a price/performance winner here - and we're about to see a wave of creative destruction in camera prices.
With a ready-to-shoot LCD-only URSA Mini 4K coming in at a little under $3500 (with media, battery plate, a battery solution and shoulder kit) the 8-bit
JVC LS300 has a real problem at $3495
.
In addition, I think Canon Cinema EOS and Sony FS prices are going to have to come down across their product lines. I really cannot see buying a
C300 Mark II for $15,999
rather than a $7,000 viewfinder-equipped Mini 4.6K.
As for me, my Panasonic GH cameras are for sale.
If anything here has helped you to make a buying decision, please click on the links above or the display ads below or in the margins. It won't cost you anything extra, and it will help to keep these posts coming.
And please
follow HCR here
, on
G+
, on
YouTube
on
Vimeo
and on Twitter (button below) for the latest news on micro-budget video and cinema.
Follow @hybridcamrev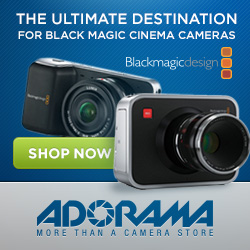 Disclosure of Material Connection: Some of the links in the post above are "affiliate links." This means if you click on the link and purchase the item, I will receive an affiliate commission. This costs you nothing extra. Regardless, I only recommend products or services I believe will add value to my readers. I am disclosing this in accordance with the Federal Trade Commission's 16 CFR, Part 255: "Guides Concerning the Use of Endorsements and Testimonials in Advertising."