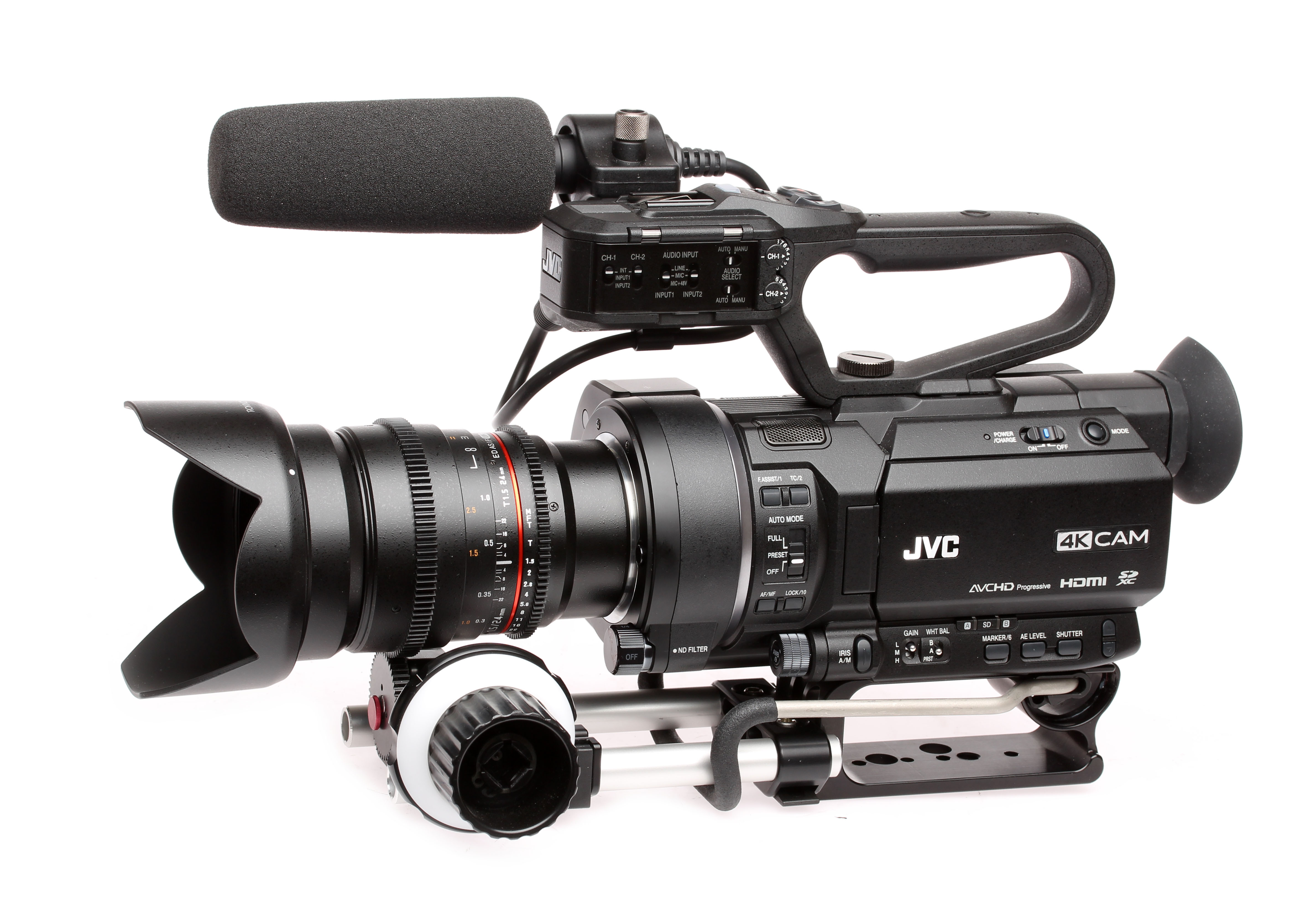 As
reported earlier
, JVC is going all-out to get its soon-to-ship Super 35mm camcorder into the hands of videographers and filmmakers with a
terrific promotion
- and the major online retailers have started to include it on their GY-LS300 product pages.
Now, when you
pre-order your new LS300 from Adorama for $3995, you get your choice of either a free Rokinon 24mm or 35mm cine lens - or a Canon EF, Nikon or PL mount adapter
.
This is a real bargain - "4K for $4K" (sorry, RED) - plus compatibility with your existing lenses straight out of the box (unless you're an NEX shooter :)).
And the image quality is top-notch.
I don't know how I missed this, but when Matthew Allard did his LS300 test a few weeks ago (which I wrote about in
this post
), he compared the UHD and HD output from the LS300 with UHD/HD output from the Sony A7s - both recorded to the
Convergent Design Odyssey 7Q+
in ProRes.
Using the same Zeiss lens on both cameras, the results were surprising. To Matt's eye (and mine), the LS300 produces "a sharper, more detailed UHD image than the A7s." Here's the video:
This is the camera many shooters have been waiting for since the beginning of the large sensor, interchangeable lens camera revolution - an affordable Super 35 camera with the ergonomics and features of a traditional camcorder - plus image quality that beats (or at least matches) the best of the still/video hybrids.
There will be a lot of DSLR/DSLM upgraders who will want ditch their unwieldy "rigs" and buy this camera - if only to get away from the hassle of screw-on ND filters and XLR adapters,
This is very good news for JVC - and potentially bad news for Canon, Sony, Blackmagic and Panasonic - whose $4000 offerings are either less capable (Canon, Sony and Panasonic) or less ergonomically friendly (Blackmagic).
Panasonic is especially weak in this price class, with the AF100 long overdue for a refresh.
If Panasonic wants to compete with JVC in this market segment, any new "AG-AF200" will have come in below $4000 - especially if they stick with a micro 4/3 sized sensor. It's going to be an interesting NAB.
As always, if anything here has helped you to make a purchase decision, please shop using the links above or the displays below and in the margins. And even if you're not in the market for a new camera, please comment and make suggestions below. It won't cost you anything extra, and it will help to keep these posts coming.
And for the latest deals, news, tips and techniques, please follow HCR on
Blogger
,
Twitter
and
YouTube
- and
circle us on Google+
.