The
$1699 Panasonic GH4
seems to elicit some pretty strong reactions. Opinions run the gamut from reviews like "
Best Camera Ever?
" to a "scientific" test called "
Dynamic Range – Sony A7S vs. the others
" where the results seem to confirm the testers' preconceptions, e.g, "the rather videoish look and contrasty colors we can subjectively observe" from the GH4.
Here's the chart showing the results of this test (using the
$3540 Xyla21 – 21 step Grayscale Combi-DX1
):
GH4 CineLike Dynamic Range Test - Assessed as 10.9 stops by Cinema5D
The post describing these results gives us a few details about the methodology (e.g., the lens and ISO they used), but doesn't show waveforms or tell us
which
CineLike profile the testers used (this is important because CineLike V has less DR than CineLike D).
Fortunately, we can compare these results to other data-driven tests. The best I've seen is "
Panasonic GH4: DR and Gamma, Timelapse, and More
" from Adam Wilt writing for dvinfo.net.
Adam also used the Xyla 21 to test the GH4's Dynamic Range - but he tested it across various color and CineLike profiles. Here is his result for CineLike D: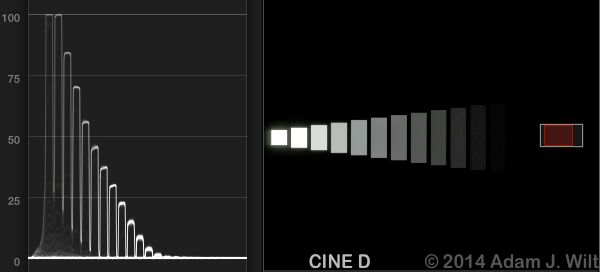 GH4 Dynamic Range Test - Assessed as 11+ stops by Adam Wilt at dvinfo
Why the clear difference between the results of the two tests? Perhaps the Cinema5D testers used CineLike V instead of CineLike D. Or perhaps it was confirmation bias related to the subjective observations about the camera's "videoish" look. Hard to know.
Personally, I don't see a "videoish" look from my GH4 unless I want it. Neither do I see it from Phil Bloom's
4K Postcard from Phang Nha
or Guillaume Le Berre's
Kaydara
.
That said, I really respect the effort the folks at Cinema5D put into this test, but in light of the significant difference with the dvinfo results, they might want to take another look at their conclusions.