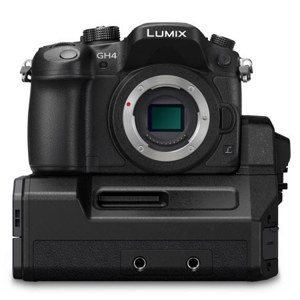 Several sources are reporting that Panasonic has announced official pricing and availability for the new
DMC-GH4
4K camera and its
DMW-YAGH
pro audio video interface.
Prices and estimated arrival dates will be:
Preorder links are up at some of the
smaller retailers
(and at
Adorama
) already. They are not up at
Amazon
yet, but should be soon (EDIT: the pre-order link is
now up at Amazon
).
It looks like my
earlier estimate
for the price of the
GH4
was about right - but my guess on the price of the
YAGH
was off by $200 to the high side.
This is very exciting news. It means that existing micro 4/3 shooters will be able to step up to 8-bit 4K from their existing cameras for
less than $1700
. And new micro 4/3 shooters can step up for $1700 plus the price of a lens or adapter.
For indie movie shooters who want to step into the world of 10-bit 4K motion picture production this means that for less than $7000, they can record true cinematic 4096x2160 4K.
That $7000 number is based on $3300 for the
GH4
/
interface
kit, plus either a
$2295 for a Convergent Design Odyssey 7Q
or a
$3495 Aja Ki Pro Quad
).
Yes, this setup would be several thousand dollars more than a
$2995 Blackmagic Production Camera
(and would lack RAW recording capability) - but it would allow indies to start at the lower $1700 entry point (lower than the price of a
$1995 Blackmagic Cinema Camera
), and would give them an upgrade path to:
Real 4K recording as opposed to UHD
The same bit depth and color space as ProRes
2 XLR mic inputs on the YAGH (and 2 more with the Ki Pro Quad) with decent sound quality - instead of the Production Camera's 1/4" input jacks and dodgy preamps
The ability to perform simple camera functions, such as the ability to erase clips in-camera
A built-in EVF
A pretty good still camera to boot.
As for Canon and Sony 4K cinema cameras - when it comes to price, they are not even in this conversation.

Welcome to the next phase of the hybrid still/video camera revolution!