The great review site, "What Digital Camera?" in the UK, has the
first hands-on
review of the new Panasonic GH4 (published before the official rollout, pulled, and now re-posted).
Their bottom line? "For videographers the GH4 is currently peerless..."
Here's why: 4K at a maximum frame rate of 96fps (!) [EDIT: I was wrong about this - the 96fps frame rate is only available at 1080p], a 200mbps non-AVCHD codec, an OEM Interface Unit (pictured below) with 2 XLR inputs, 4 (!) SDI outputs, color bars, an audio tone and TBC. But for the lack of RAW, a shoulder mount and a built-in ND, this camera has everything on my list.
The new Panasonic microP2 UHS-II card makes these insane bitrates possible. It transfers files at up to 2.0Gbps (!) and is available now at
Adorama
and
Amazon
.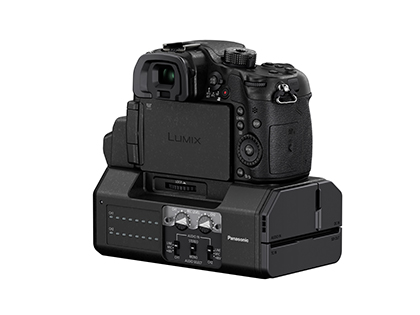 If the price point for this camera is really $2000, the 4K/
30p
cameras on the market, the
$2K Sony AX100
, the
$4K Blackmagic Production Camera
, the
$4.5K Sony AX1
and especially the
$12K Canon 1D C
all seem suddenly overpriced.
That said, if you need a 4K camera now, and can't wait for the the GH4, please order it from the links above or the display ads below - it won't cost anything extra, and it will help keep these blog posts coming. Thanks so much!