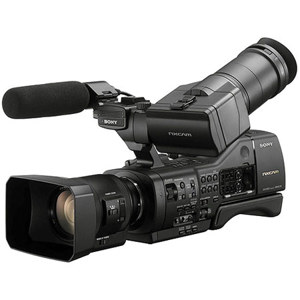 I have raved about this camera a couple of times before - last year when it was
introduced
, and last month when it was
marked down to $2999
.
This time,
marked down to $2949 $2725 at Adorama
(immediate
$50
$224 off at checkout, and a
$600 mail-in rebate
), it is even better value for the money.
As a reminder, here are a couple of examples of the image quality it can produce:


If you want a large-sensor, interchangeable lens, shoulder mounted still/video camcorder with pro mic inputs for less than $3000, the EA50 is pretty much the only game in town.
If anything here has helped you reach a buying decision, please click on one of the links above or the display ad below to order your EA50 from Adorama.
If you don't need a camcorder right now, please shop with our other sponsors, Amazon
, BorrowLenses, CoolLCD, DigitalRev
, uBid
, Vimeo
, the the Warner Brothers Shop
and others whose display ads you see in the margins. It won't cost you anything extra, and it will help to keep these great deals coming. Thanks so much!